Now open for registration…
For Writers:
Fiction's Big-Picture Fundamentals is a 5-week dive into the 8 essential aspects of telling a compelling story (whether it's a novel or short fiction). Includes 8 video modules and 2 group coaching sessions with Pat. Timed writing prompts relevant to character, plot, scene dynamics, pacing, tension, premise, and structure will get you from blank page to complete draft with a minimum of wheel-spinning and rewriting. Next course runs in the fall of 2023. Contact me or sign up for my newsletter (the Thursday Postcard) to receive registration news and updates.
"This course single-handedly developed my writing ability and technique more than anything else I have done in recent years."
Chris Woodland, England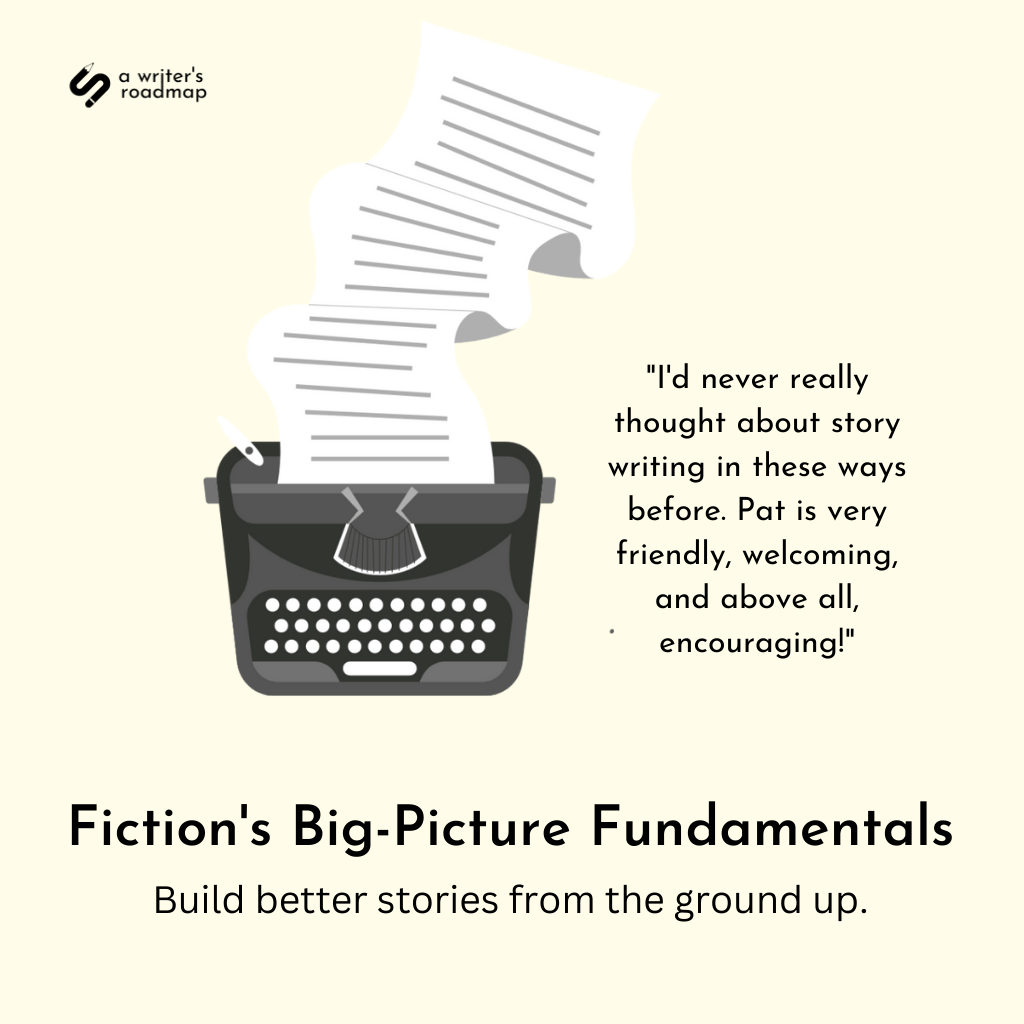 This course is for you if:
You want to know how to create a story or novel that works before you invest hundreds of hours in writing, scrapping, and rewriting.
You're ready to write with more confidence and less wheel-spinning.
You have a project in mind.
For more details or to register for Fiction's Big-Picture Fundamentals, click the button below.
---
For Editors:
Developmental Editing for Fiction is an intense and value-packed 6-week Zoom course through Editorial Arts Academy. Takes you step by step through a full developmental edit of a novella manuscript.
We will cover how and why writers work with developmental editors and how a writer's publishing goals will influence the type of editorial feedback they seek. Then, step-by-step, we will do a developmental edit of an unpublished novella manuscript. Starts May 16. Register now to get the early-bird fee!
"This was an all-around fantastic course. The hands-on editing project was the perfect way to learn the editing process. The instructor, Pat Dobie, was truly outstanding."
Melinda Morang, USA
This course is for you if you are:
An avid and discerning fiction reader who wants to turn your passion for novels into a rewarding income stream
A writer who wants an inside look at how developmental editors assess your manuscript's strengths and weaknesses
An editor working in other fields (trade nonfiction, academic, corporate, or institutional) who loves fiction and wants to learn more about it so you can expand your offerings
A copyeditor or proofreader who wants to add big-picture developmental editing to your toolkit
Offered through Editorial Arts Academy
6 weeks via Zoom
Each class is recorded and comes with a workbook that you can access forever
Includes feedback from Pat on your editorial letters and manuscript markup
Maximum 12 participants
For more details or to register for Developmental Editing for Fiction, click the button below.