Wondering what editors do, exactly?
The very idea of working with an editor can be scary. Who are these sinister types, and what do they do? How much will it cost, and how long will it take? Most important, will it make your book better?
I had been editing fiction for a few years when it occurred to me that I was giving the same information to writers asking about my freelance editorial services. Most wanted to know:
what's involved in an edit?
how long will it take?
what's the difference between levels of editing?
how much does it cost?
I came to realize that the subtext ran deeper. What writers really wanted to know was:
will editing make my book better?
is it worth the money?
why should I work with you?
what if I don't like your advice?
how do I know I can trust you?
As a fiction writer myself, I have been on both sides of the editorial exchange and I know that good editing can make a profound difference to your writing life. There are many excellent books on the craft of writing, but almost none for fiction writers who are trying to decide whether they need or want to work with an editor on their path to publication. Similarly, few books dissect the art and practice of fiction editing in any detail. This book is designed to fill that gap.
Fiction Editing: A Writer's Roadmap is for writers seeking agents and for those who are publishing themselves. It's for those who want to avoid scams and ripoffs and those who want to know how working with an editor can help them become a better writer. It is a fundamental guide for writers at any stage, from first-time novelists to veterans in the art and craft of writing.
In fifteen easy-to-read chapters you'll discover:
When and why fiction writers work with freelance editors
How to tell whether working with an editor makes sense for you
What the different levels of editing are and how they work
What book maps, editorial letters and manuscript markups are and how they serve you
What the most common writing issues are and how to fix them
How to protect yourself from scams and bad editors
What editorial contracts should contain
How to save money on professional editing
Three essential tactics for a DIY edit if you can't afford a pro
How to manage revision once you get an edit back.
Available on Amazon in paperback ($9.99) and Kindle ($3.99) and in Nook, Kobo, Apple, and other e-book formats here ($3.99 & up).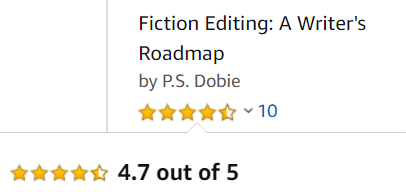 Supremely engaging…Very informative, with an informal conversational style. This is a guide that will have great appeal for both writers and editors.

Maureen Phillips, Writer and Editor
This is a fabulous guide! I love the clear, breezy style, the easy-to-follow organization, the step-by-step descriptions of editing processes; and most of all, how informative it is.

Amanda Goldrick-Jones, Writer and Editor